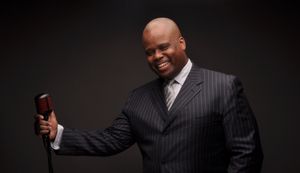 Bio
 'Evolving' is more than just the title of Roderick Harper's exceptional new record; it's his entire way of life.  
"I've spent the last few years deep in a process of self-discovery and change," says the versatile New Orleans vocalist. "I've been trying to understand myself, to peel off the cellophane and really get at what's underneath. This album is the sound of me becoming the man I was always meant to be." 
Recorded live with a cast of friends and mentors (including appearances from late piano legend Ellis Marsalis, sax icon Donald Harrison, and vocalist/drummer Jamison Ross), 'Evolving' is both a homecoming and blank slate for Harper, a return to form and a start from scratch. The songs here span the full breadth of his remarkable journey and extraordinary talents, but rather than linger in nostalgia, they press forward with newfound immediacy and resolve. Harper's delivery is vibrant and mesmerizing to match, his voice smooth as velvet as he charts his own distinctive course through a collection that's equal parts head and heart. Sure, there's plenty of vocal sophistication and dazzling instrumental work on the album, but at its core, 'Evolving' is all about raw emotion and gut instinct, about taking chances and breaking free. Harper is making up for lost time with this record, and he's laying it all on the line in the process.  
"At the end of the day, I don't want to leave this life with any regrets," he explains. "I don't want to deny who I am or what I'm here to do." 
Harper's story begins in DC, where he grew up singing from the time he could speak, but it really starts taking off at Southern University in Baton Rouge, where he found himself studying under the tutelage of jazz titan Alvin Batiste. While still enrolled at Southern, Harper began making regular trips into New Orleans, and it was there that he landed himself a life-changing guest spot one night with Ellis Marsalis. Impressed with the young vocalist's performance, Marsalis invited Harper to return the following week, and soon after that, offered him a steady gig with the band. 
"I couldn't believe it," says Harper. "I moved straight to New Orleans the minute I graduated, and I performed with Ellis for six or seven years after that." 
In New Orleans, Harper quickly made a name for himself as a solo artist, as well, playing gigs all over town and releasing his aptly titled debut, 'Beautiful Beginnings,' to rave reviews. As much as he loved the city, though, Harper had a restless spirit, and after several years in The Big Easy, he followed his muse to New York, where he landed a prized gig performing the works of Charles Mingus with Wynton Marsalis and the Lincoln Center Jazz Orchestra. In the years to come, Harper's career would continue to blossom, and he'd find himself sharing stages with the likes of Max Roach, Dizzy Gillespie, Jon Hendricks, Shirley Horn, and Nicholas Payton, among others. After New York, Harper moved once more, this time to Chicago, where he enlisted Payton to produce his second album, 'The Essence Of…,' and continued to garner widespread critical acclaim. The Chicago Sun-Times called him "a smooth and serious singer," while All Music praised him as a "refreshing jazz vocalist" who "enjoys doing the unexpected," and All About Jazz highlighted the "bright future" that lay ahead of him. 
"Somewhere in there, though, life happened," says Harper. "I got married, I had children, and even though I managed to still keep gigging here and there, I spread myself too thin and lost my focus for a while."  
By the time his marriage came to an end, Harper had been in Chicago more than a decade. Determined to pick up the pieces and get back on track, he packed his bags and headed for the one place that'd always felt like home: New Orleans. 
"I realized that if I was going to become who I was meant to be, I'd have to do some serious soul searching," he explains. "I had figure out who I was, what I wanted in life, and how I was going to go about getting it." 
Back in New Orleans, Harper released a third album, 'Perfect Imperfections,' and dove into 'Evolving' immediately afterwards, pledging to never let himself go as long between records as he had in Chicago. Working on a shoestring budget, he relied on faith to make the sessions happen, counting on his relentless positivity and dedication to open up doors and break down barriers wherever they appeared. Old friends turned up and offered to help, and as the project gained momentum, Harper found himself drawing more and more talent into his orbit. 
"I didn't know how I was going to pay for it when I started, but I just knew that I had to do it," he says. "It was a true labor of love."
Roderick has recorded six CD's:  Beautiful Beginnings, produced by Delfeayo Marsalis and The Essence Of… produced by Grammy Award Winner, Nicholas Payton, Perfect Imperfections, self produced, E•VOLV•ING, self produced and the R&B project, Back To Love and now his latest release, 2702.  It was produced by, Grammy Award Nominee, Drummer / Vocalist, Jamison Ross.  His voice was apart of the HBO Soul of the Game, the BET BlacKout, a featured vocalist on Kent Jordan's CD, Out of this World, as well as, a Folgers Coffee and McDonalds Commercial and the UMC television series, Terror Lake Drive.